Rebecca Eagle
Beaded Masterpieces. . .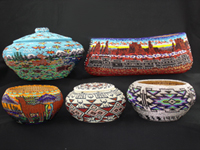 A collection of beaded baskets by Paiute-Shoshone Artist Rebecca Eagle Lambert, one of Nevada's most prolific weavers. She was included in the Nevada delegation at the National Folk Life Festival in Washington DC, and has received the Nevada Governor's Arts Award - Excellence in Folk Art.

Rebecca Eagle Lambert's award-winning baskets include traditional and contemporary geometric designs, exquisite scenic images of the American West, including Yosemite Valley, the Grand Canyon, the Railroad, Montana, Indian motifs, people, wild game and insects.
Showing 1 to 1 of 1 Items
Beaded Casino Basket
Item#: be-11

Newly acquired Rebecca Eagle beaded basket. Diameter: 11in Height: 7 1/2in
Category:
Indian Baskets - Rebecca Eagle|Other Collectables - Beadwork

Showing 1 to 1 of 1 Items